A few weeks ago, I started to track down locations for Pee-Wee's Big Holiday from shots in the trailer. Now that it is released, I am revising this page to be more complete and to follow the movie timeline. Although this film will never hit the cult status of the original, it was a cute romantic movie in my opinion.
First up is Pee-Wee's house. Strange that they did not use the house from Pee-Wee's Big Adventure as it is only a few blocks away, but this house is located at 1108 Diamond Avenue in South Pasadena. (They obviously took some liberties with the CGI-roof and some not-so-good special effects here!) Next, we'll catch up with Pee Wee driving a small car down the street. This area is pretty recognizable and will always be Haddonfield, Illinois to me. Pee Wee is driving north down Diamond Avenue towards Oxley Street in South Pasadena.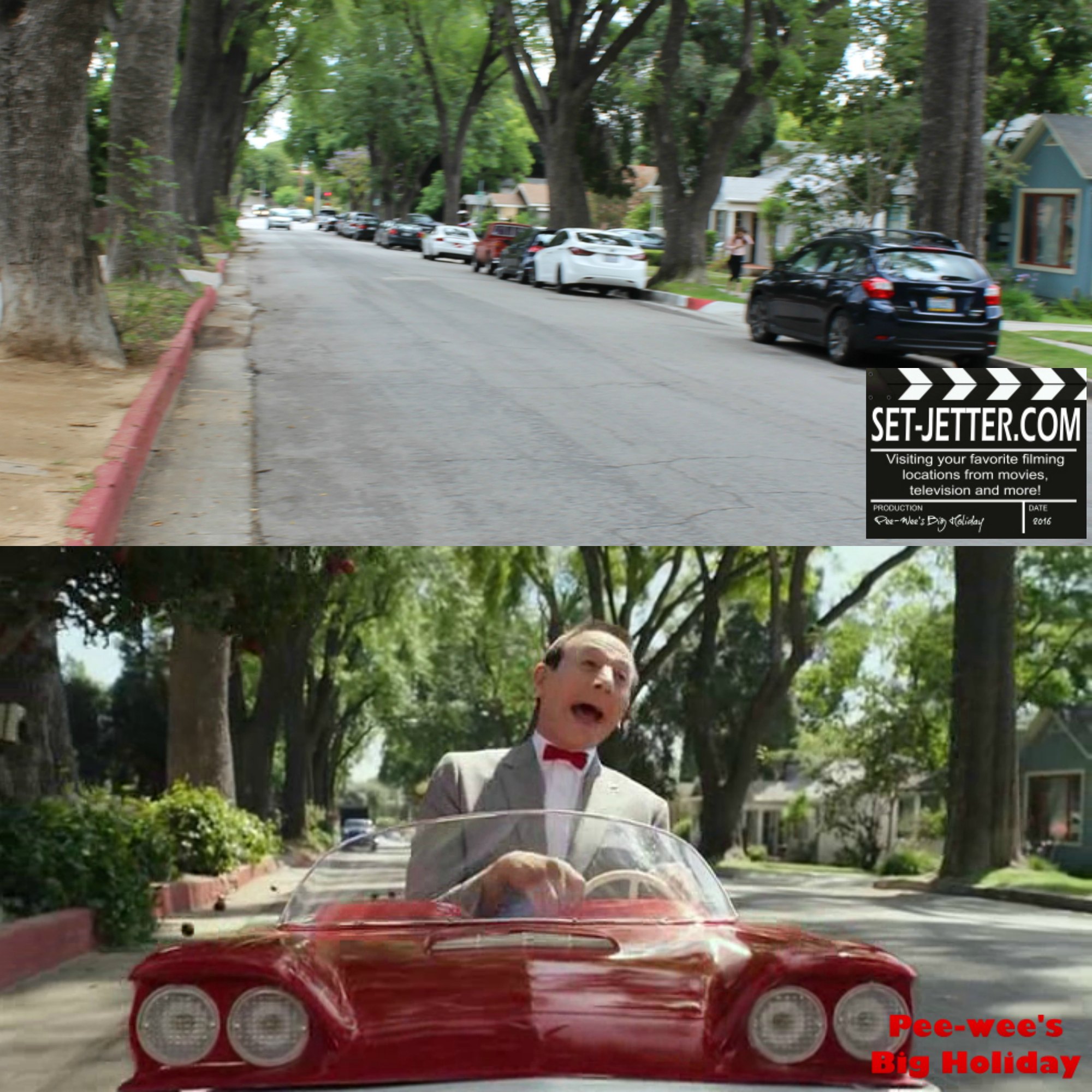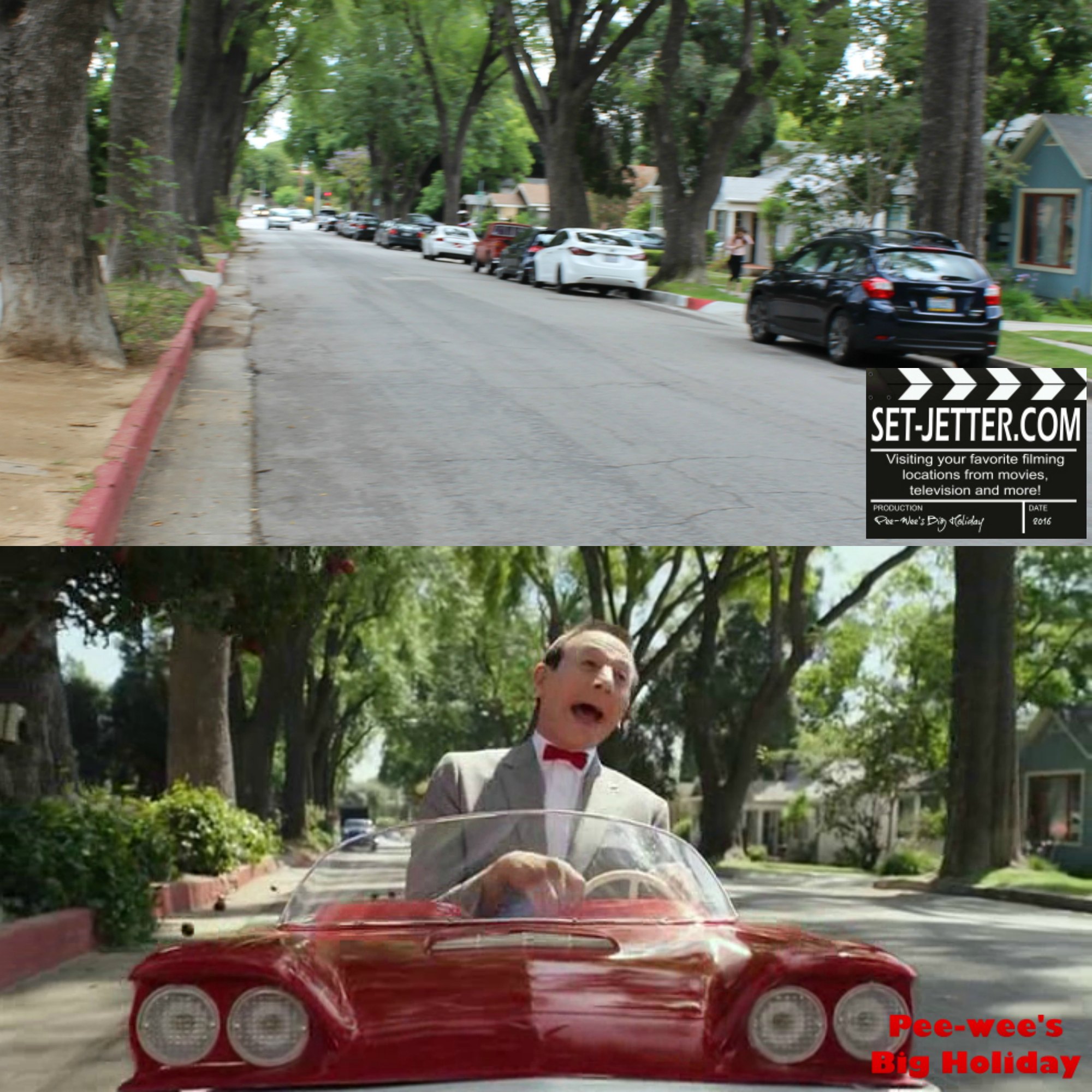 The last shot is of the house at 1107/1109 Oxley Street, just two houses down from Laurie Strode's house in Halloween.
Next we move a few streets over. Pee-Wee first drives by 715 Adelaine Avenue in South Pasadena.
He continues to the kids' house next door at 709 Adelaine Avenue in South Pasadena.
Right across the street at 800 Adelaine Avenue, Pee Wee drives by a big tire that's soon let loose...
And finally he continues up the same street to the green house where he has breakfast, located at 626 Magnolia Street.
Next we find Pee Wee is skateboarding, taking off out of the driveway of 1114 Windsor Place in South Pasadena. He skates up that same street to pick up the old lady in front of the house at the corner of Oxley and Windsor.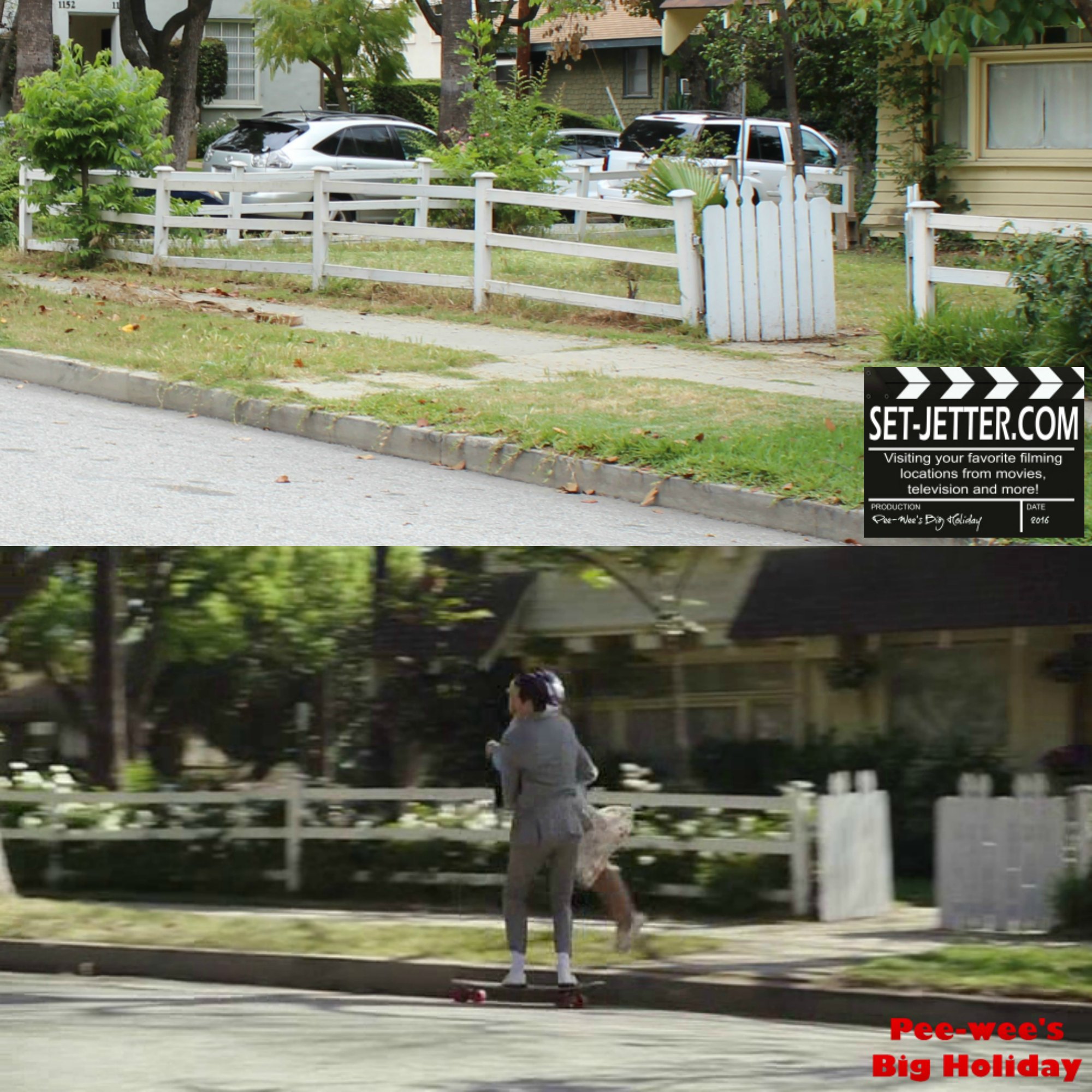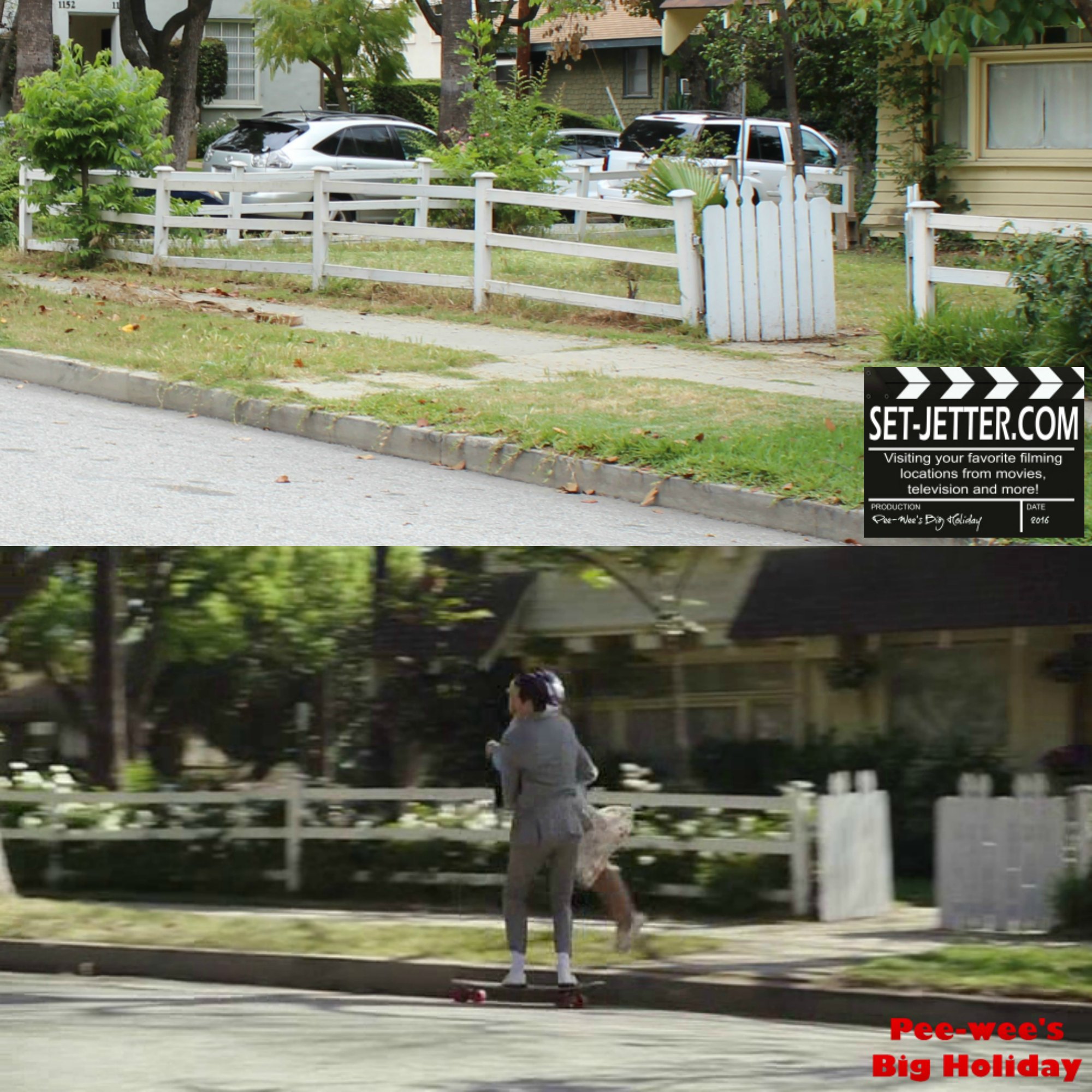 Next they are skating toward's Laurie Strode's house from the original Halloween at 1115 Oxley Street in South Pasadena. In a couple shots, you can see the famous corner stoop where Jamie Lee Curtis sat with her pumpkin ready to go babysitting!
The duo land pretty far from their original location and in front of the storefront at 410 Central Avenue in Filmore, California.
As Pee-Wee walks to work, we see a few different locations including the fire department at 114 S 10th Street in Santa Paula, the gas station at 405 Central Avenue in Filmore, and the barber at 358 Central Avenue in Fillmore.
Pee Wee continues down the street to 330Central Avenue in Fillmore before bumping into the travel agent.
Although technically he is just a few feet away from the diner, he is now at the library, located at 502 2nd Street in Fillmore.
At last, we end up at Dan's Diner where Pee-Wee works in the kitchen. This is located at 320 Central Avenue in Fillmore. You can see the inside is completely empty and ready for the next production.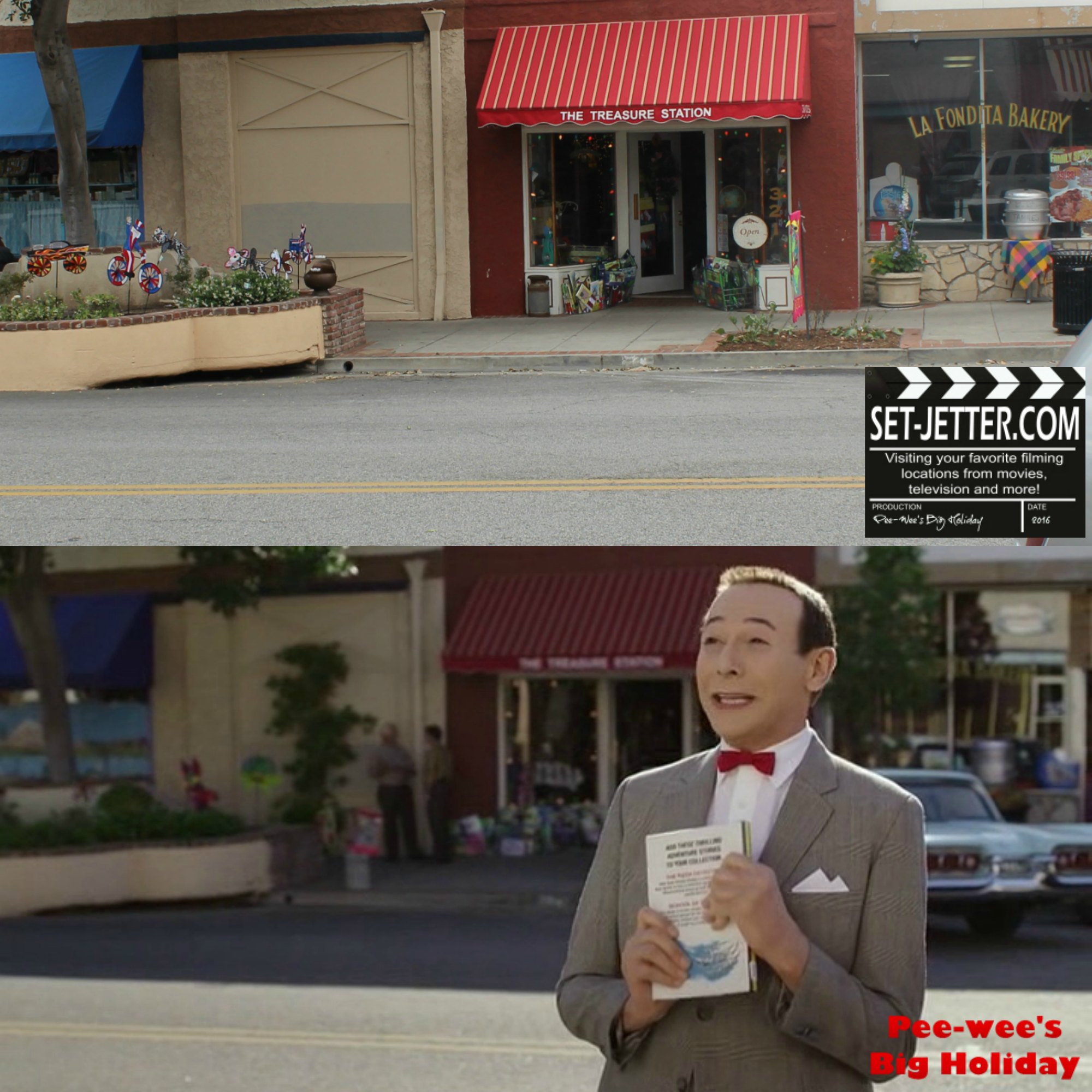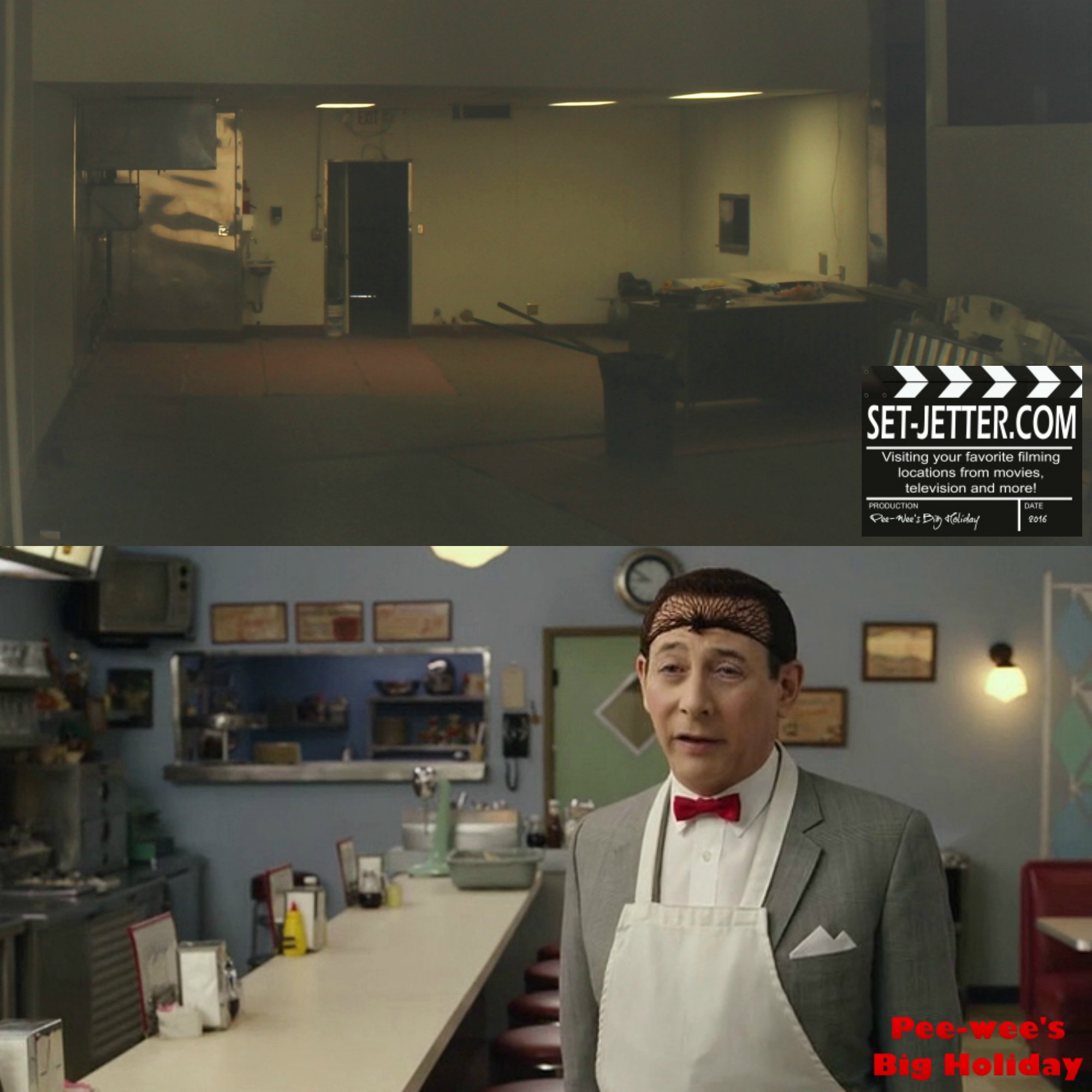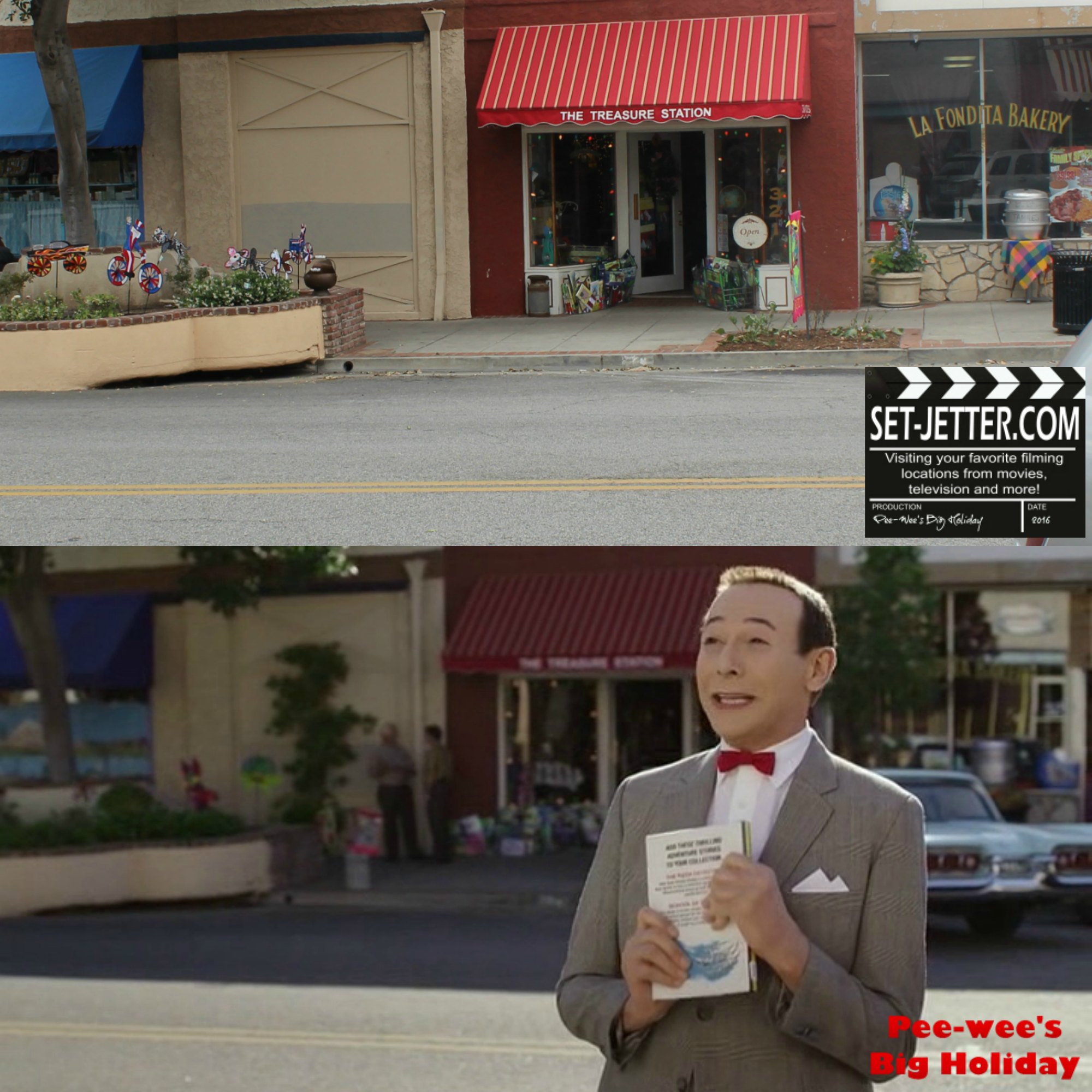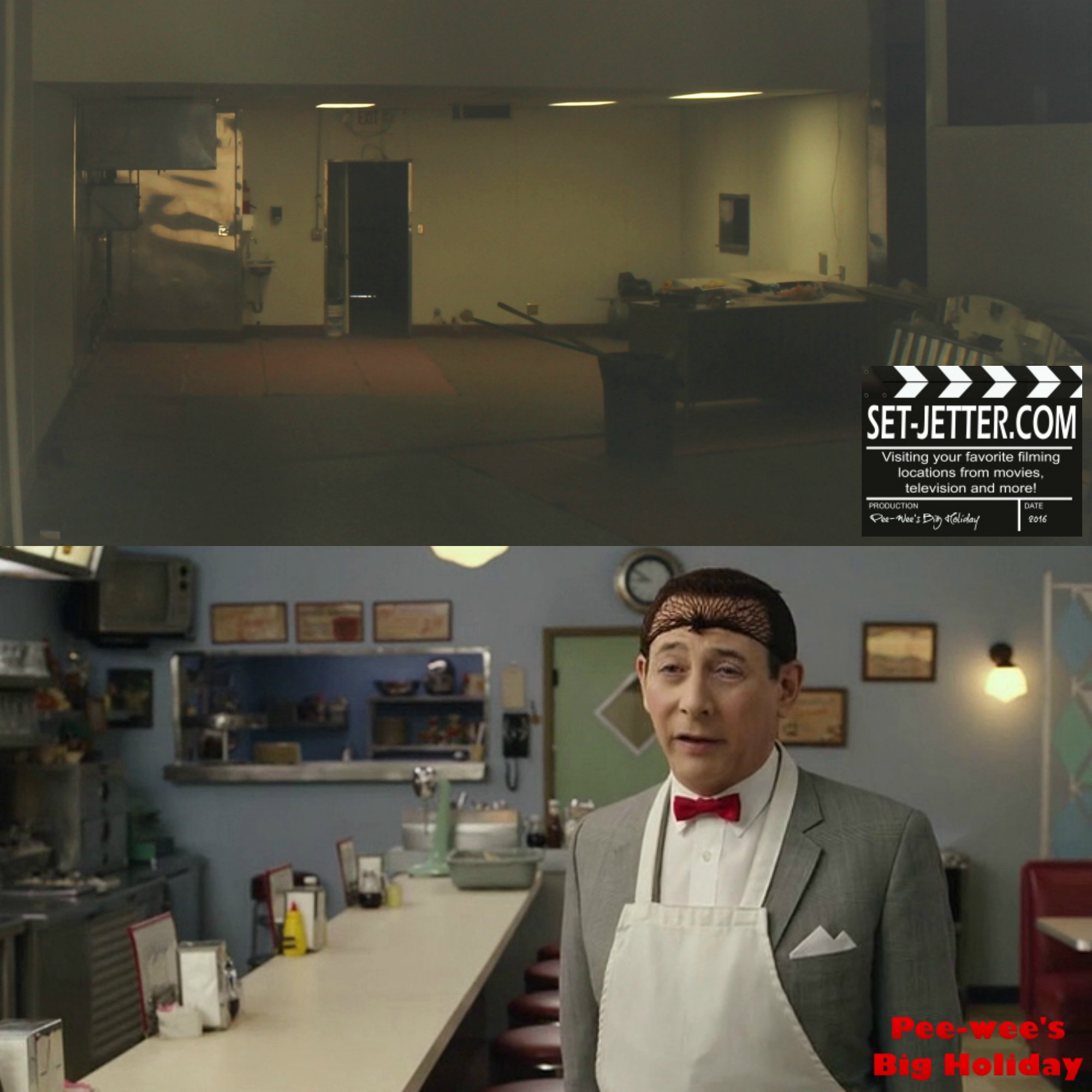 Completely smitten with Joe (who wouldn't be?), Pee Wee hops on for a ride home!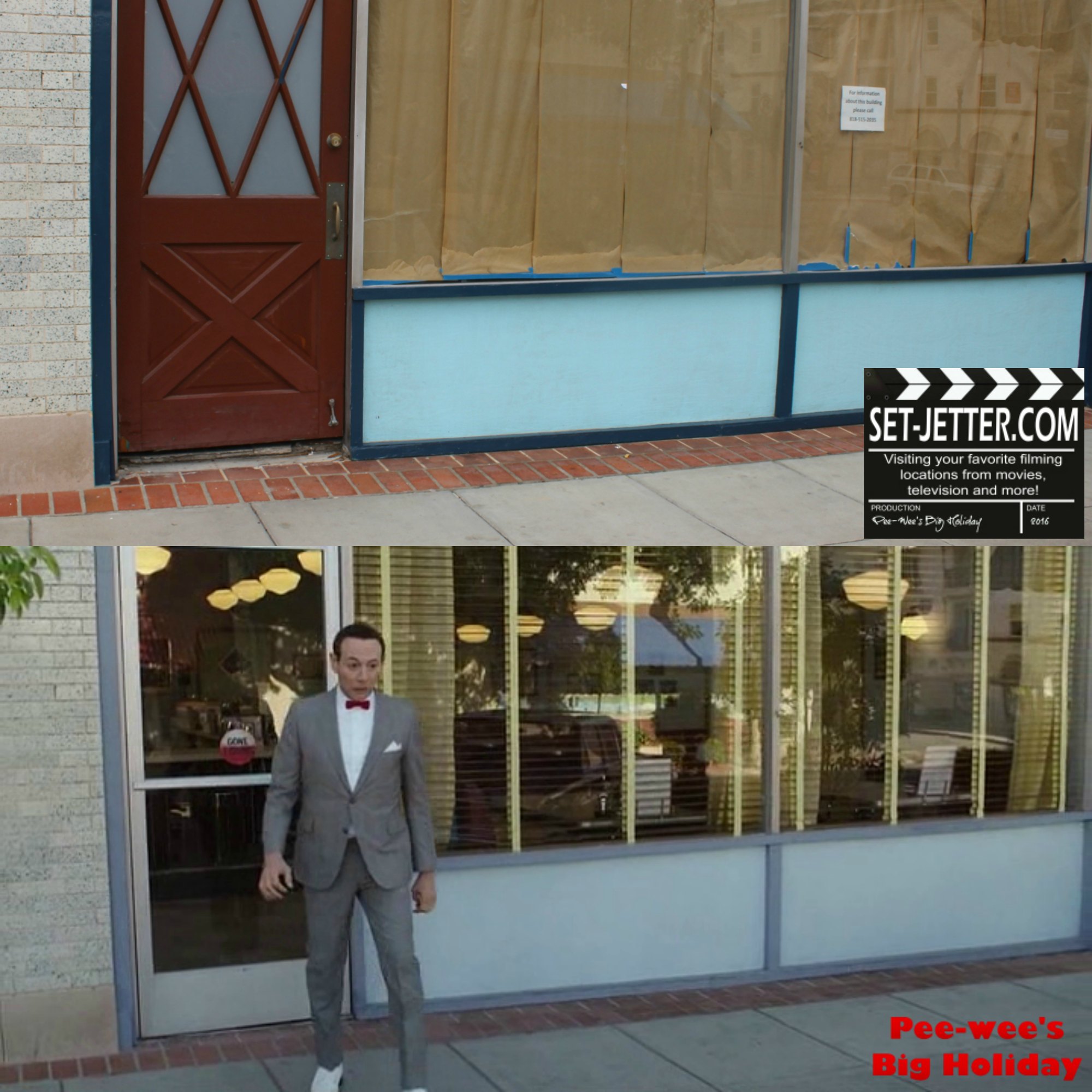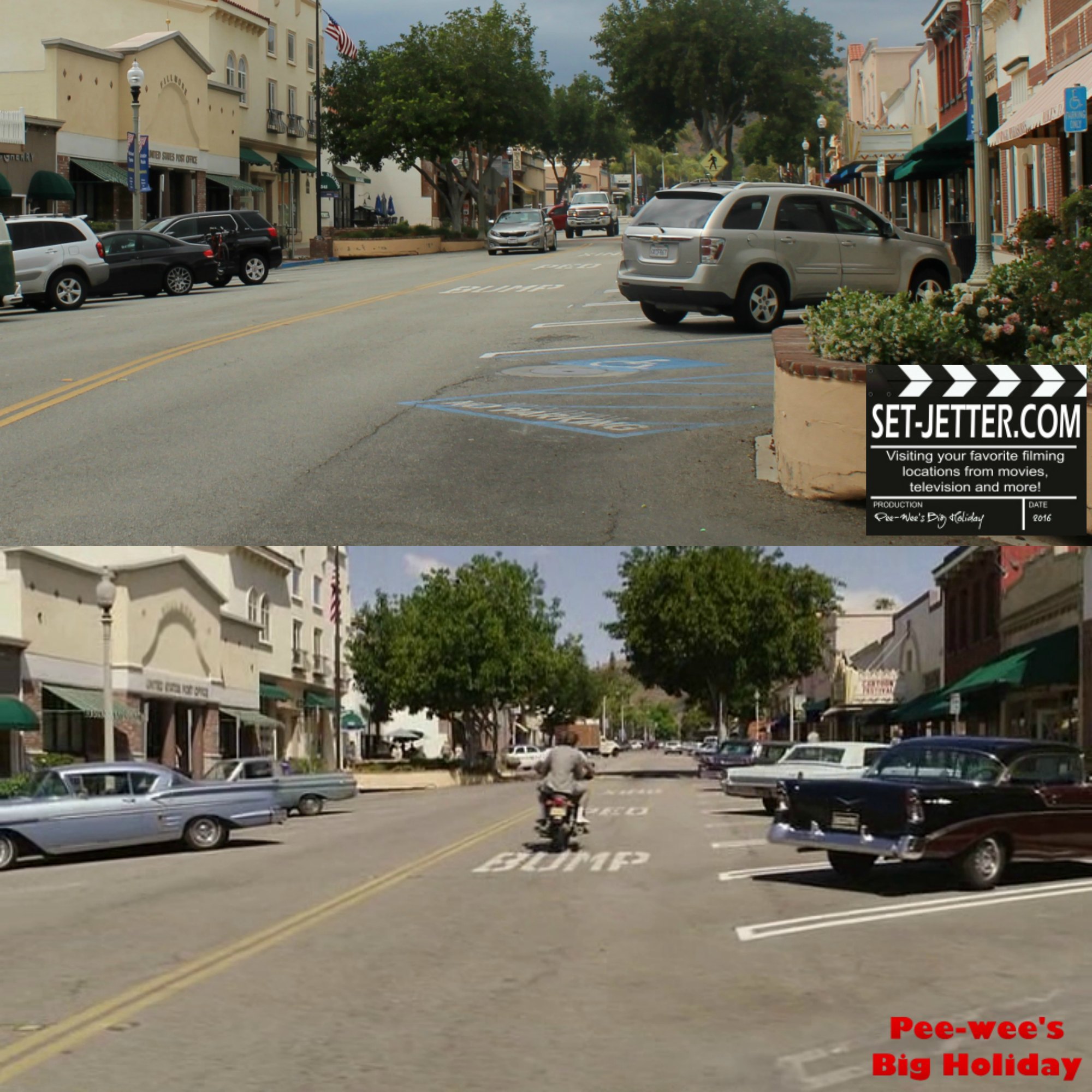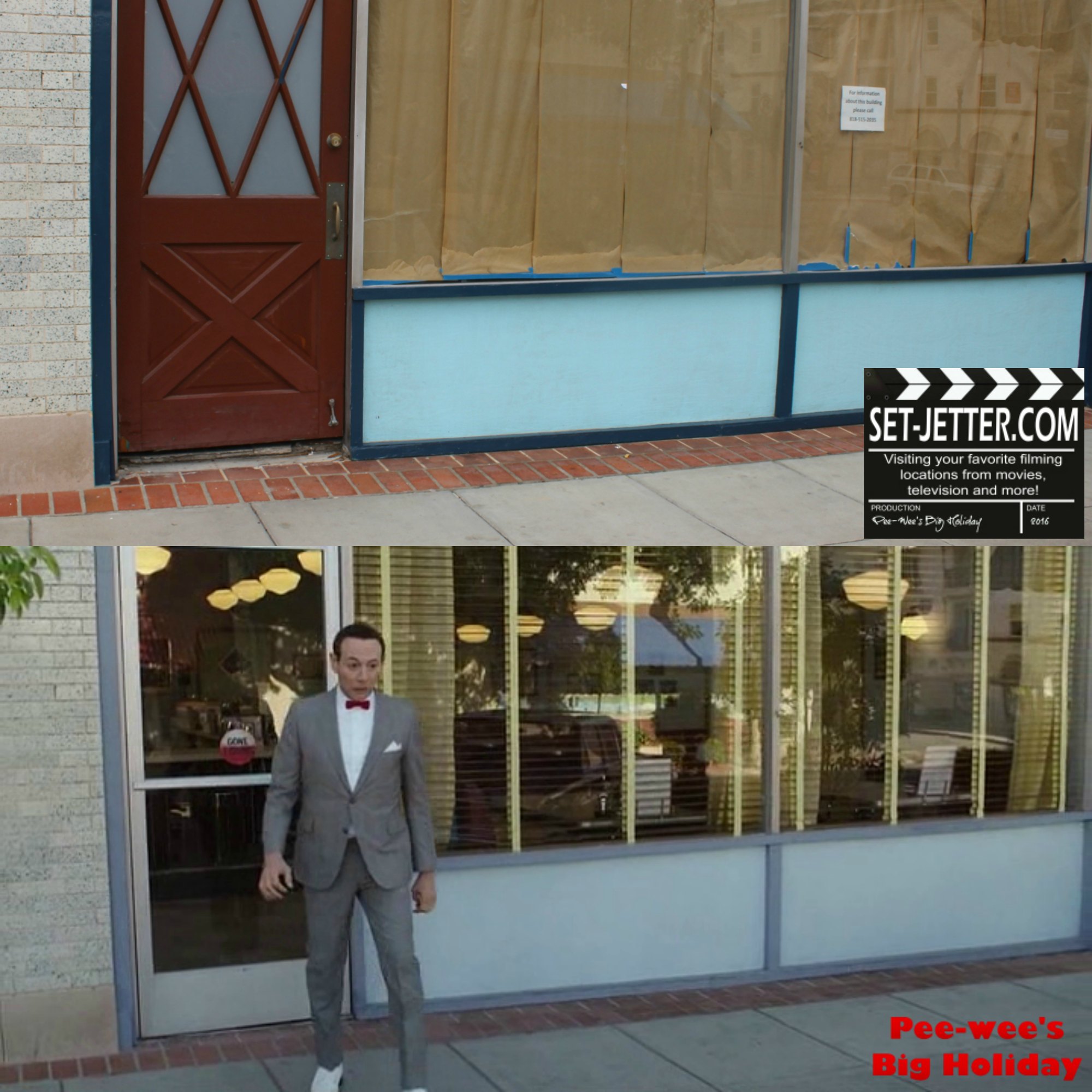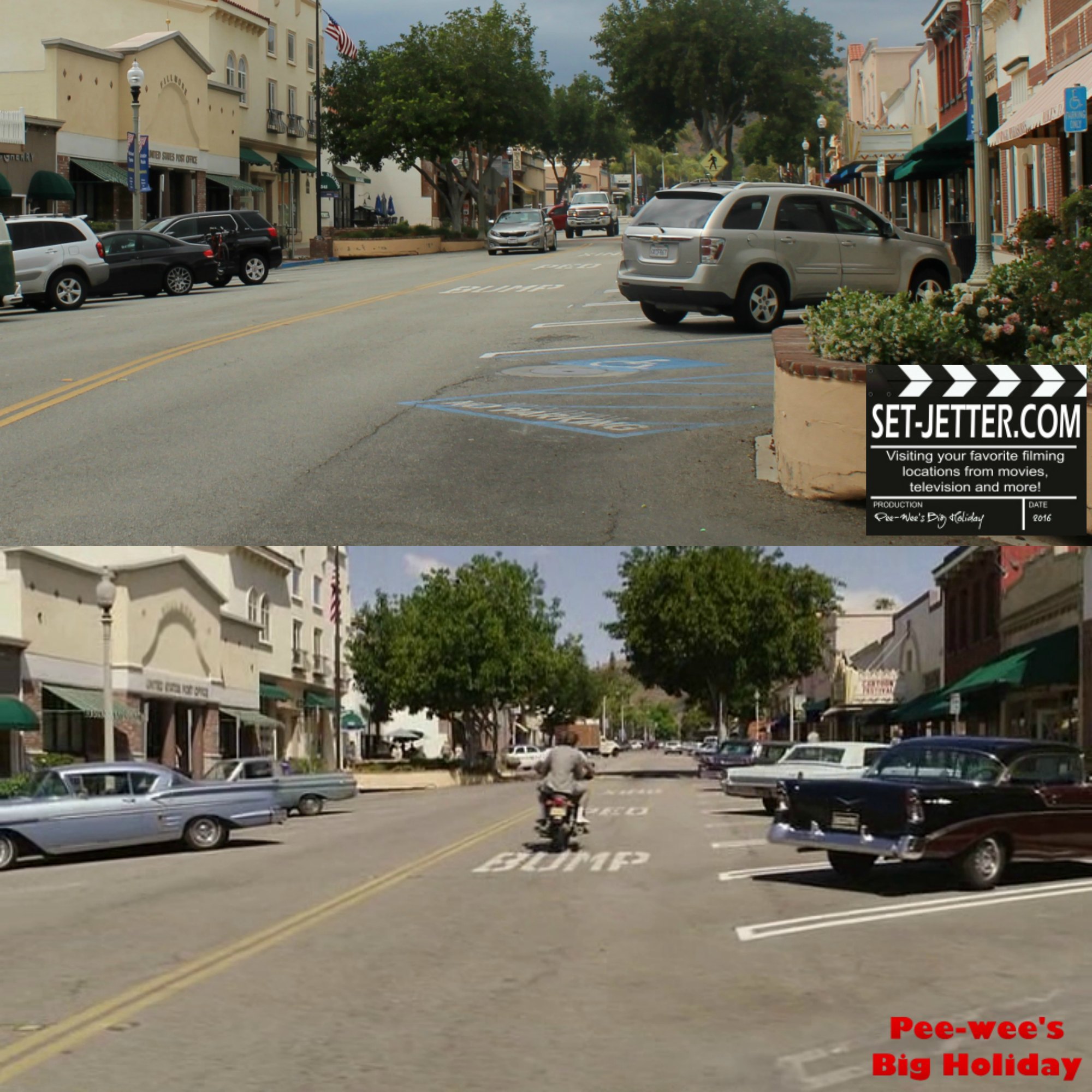 Next we are back at Pee Wee's house located at 1108 Diamond Avenue in South Pasadena. Joe takes off for the Big Apple...
Pee Wee gets his own Big Apple and decides to follow Joe, and with that we leave South Pasadena for a while...
When Pee-Wee first leaves Fairville, he is traveling east on Center Street in Piru, California.
...crossing these train tracks...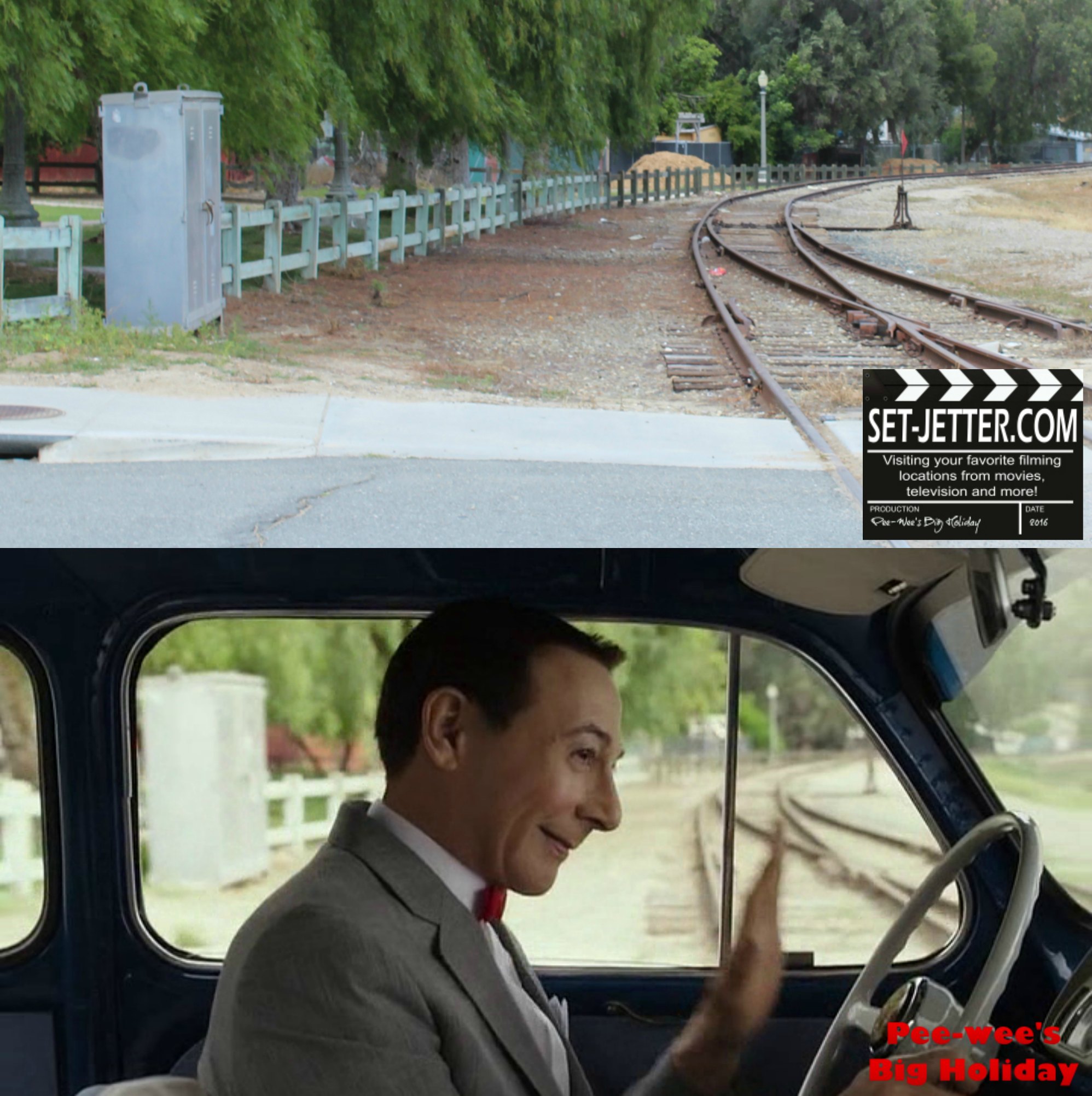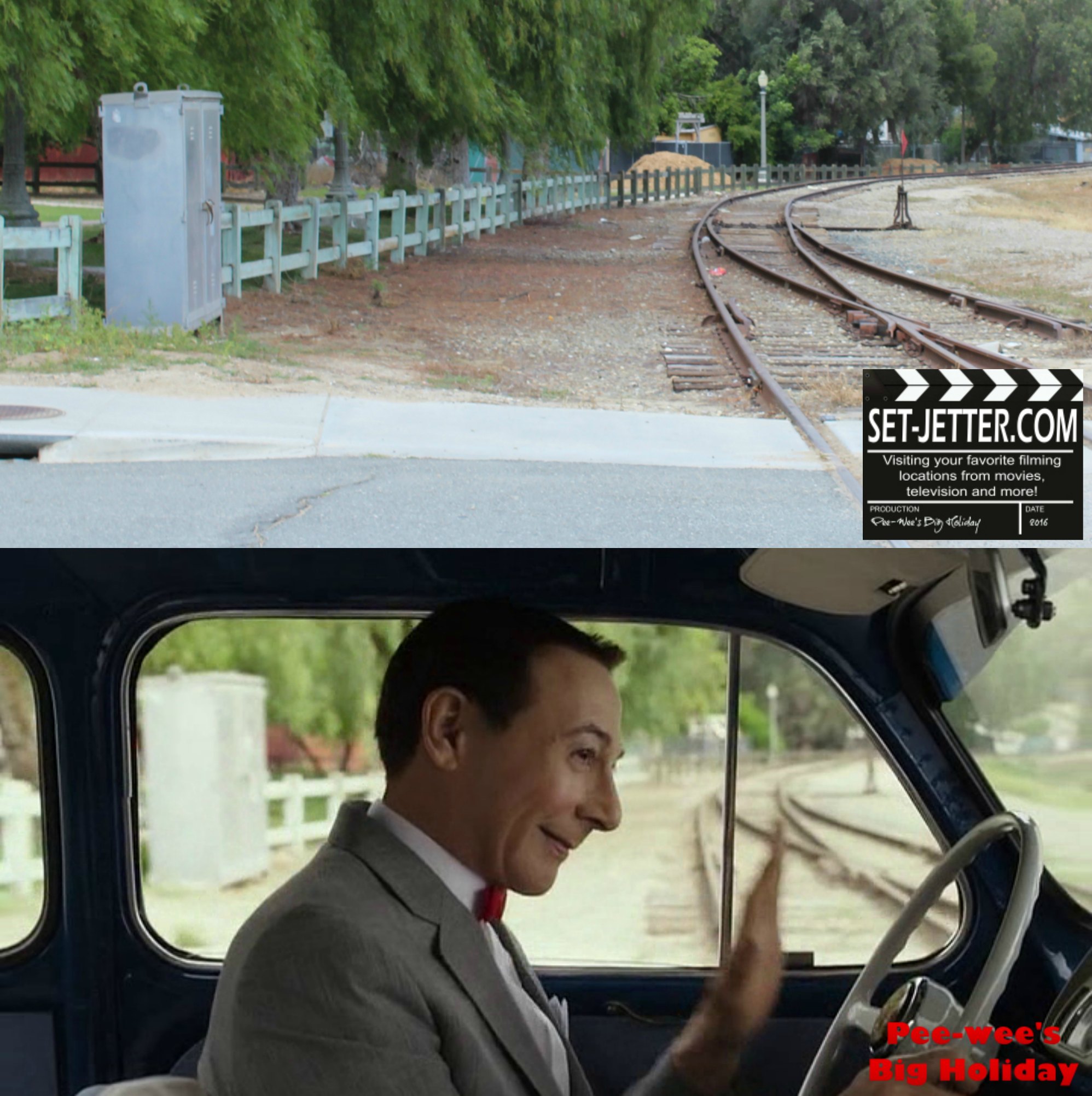 ...and leaving a local to change the Fairville population down by one.
His trip has barely started when he stops to take a picture of a traffic light at the corner of East Main Street and Davis Street in Santa Paula, California. Of course, there is no actual traffic light there in real life.
Right across the street, he sees three bad girls robbing a bank and who quickly take him hostage...
As they flee the police, they drive up Davis Street...
And round the next corner onto East Santa Barbara Street.
They hide out at the Neptune's Castle Motel. This is located at Four Aces at 149999 East Avenue Q in Palmdale, California. I was out there a few years ago to take some pics, definitely worth the drive.
The next day, Pee-Wee ends up at the Snake Farm. They actually didn't have to drive too far, this is also at the Four Aces location on the other side of the motel set.
Pee-Wee nearly gets hitched at this church, at 3869 Center Street in Piru, California.
Next is probably my favorite scene as it features Diane Salinger as Penny King. This is a great reunion of these two actors (Salinger played Simone in Pee-Wee's Big Adventure). I wish she was in more of the movie. I immediately recognize this hotel as it was used in the last season of Arrested Development. It is located at 4865 West Century Boulevard by LAX.
Pee-Wee does finally end up in New York, first stop at Peck Slip. (These are Google Streetview pics for reference.)
I included a few of the standard "we're in New York" shots used in the film from a few of my previous trips...
And finally we end up back at the diner where Pee-Wee and Joe can ride off into the sunset...
I've been fortunate enough to meet Pee-Wee's two love interests in the film, Alia Shawkat and Joe Manganiello...