1987 was a great year for horror movies and I was happy to finally add fan-favorite, The Gate, to my location visits. While visiting Toronto, I made the trek to visit the house even though it was out of the way. Like Witchboard and a few other movies, The Gate really got me interested in the technical aspects of film. This movie excelled in many of its special effects, particularly the forced perspective setups which hold up very well today. I would rather have those type of effects that left me wondering how they did it than CGI any day.
There really is only one location for the movie and that is the house, So I'll split up the scenes. We'll start on street where Glen (little Stephen Dorff!) is biking home. This is Curtis Crescent in King City, Ontario. In the background of the second shot, you can see the house from The Gate II on McClure Drive in the background.
We get the first view of the house itself, located at 150 Curtis Crescent in King City, Ontario. It looks mostly the same, however the shudders are gone and the foliage has grown a lot over three decades.
A quick shot of Al running to meet her friends down the driveway...
The kids say goodbye to their parents. The house next door is still there, but was obstructed by the owner's truck in the first shot.
Dorff was a cute kid and fortunate to get the lead in a a movie at such a young age. The porch has been widened a bit as you can see in the comparison.
Glen watches from the second story window. Obviously I did not get up there for the second shot, but included a photo show how the area looks now.
Al's friend tries to get rid of the dog, Angus, before throwing it into the pit in the backyard...
In true Poltergeist fashion, all hell breaks loose with the optical effects. And yes, I did my own light shafts picture, of course....
For the films final shots, Glen gets up to greet Terry and Al at the front door...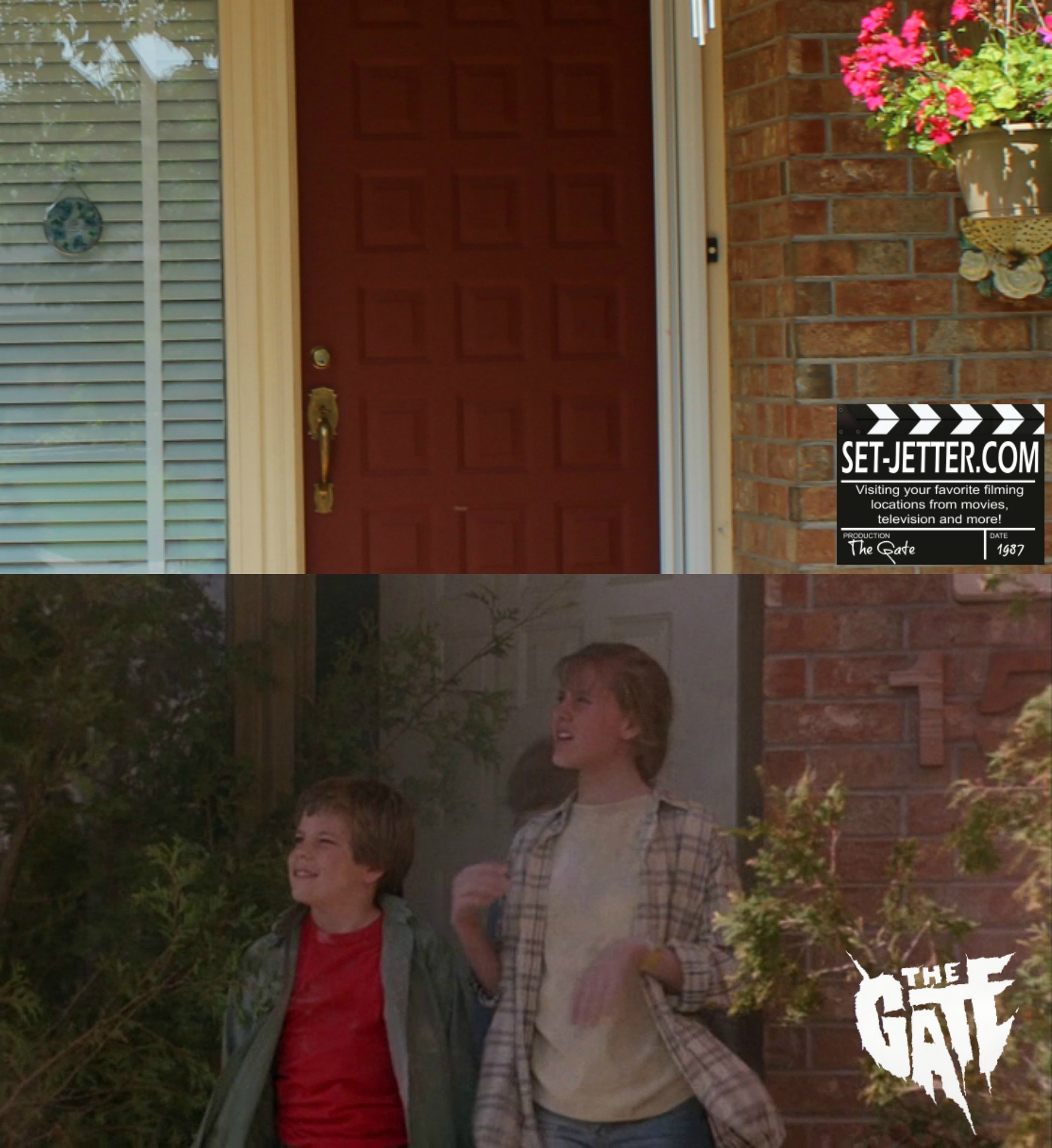 For the final shot, the camera pulls back to get the full view of the house. These are the days I wish I had a drone to replicate some crane shots.
I did not go into the backyard, but fans would be pleased to see that it is still pretty empty and untouched in the aerial view photo...