Although The Final Chapter will always be my favorite of the series, I do appreciate a lot of Part III and especially Richard Brooker as Jason. For the second sequel, production moved west to California, even though it is still supposed to be taking place on the east coast according to some store signs. As you will see, many of the locations no longer exist for this film unfortunately.
First up is Harold and Edna's store was found in 2013. Well... kind of found. It is no longer there, but thankfully the location was found thanks to a fellow fan. It was located at 34813 Bouquet Canyon Road in Santa Clarita, California. I tried to recapture the opening crane shot, but there's not much to see except for one piece of the stone gate on the right.
As this is the last existing piece of the location, I did some close up comparison shots. Although part of it is chipping away, there are other stone pieces you can still match up.
FINALLY, Vera's house has been found. Well... kind of found again. Like the other locations, the house is long gone. I had been searching for this for a long while, and earlier this year I woke up one Saturday and told myself, I'm going to find it no matter what and I did! The first shot we see is on Walnut Street looking toward 8th Street in Santa Clarita, California. The only remaining spots are the house on the far left corner and the building on the far right corner.
The van drives down Market Street and stops a few houses short of Market Street. Again, not much left here but just ONE house! This house is actually the key to I found the location. I happened to spot what looks like a small gable vent (the black triangle by the roof apex) and was able to begin matching stuff up from there.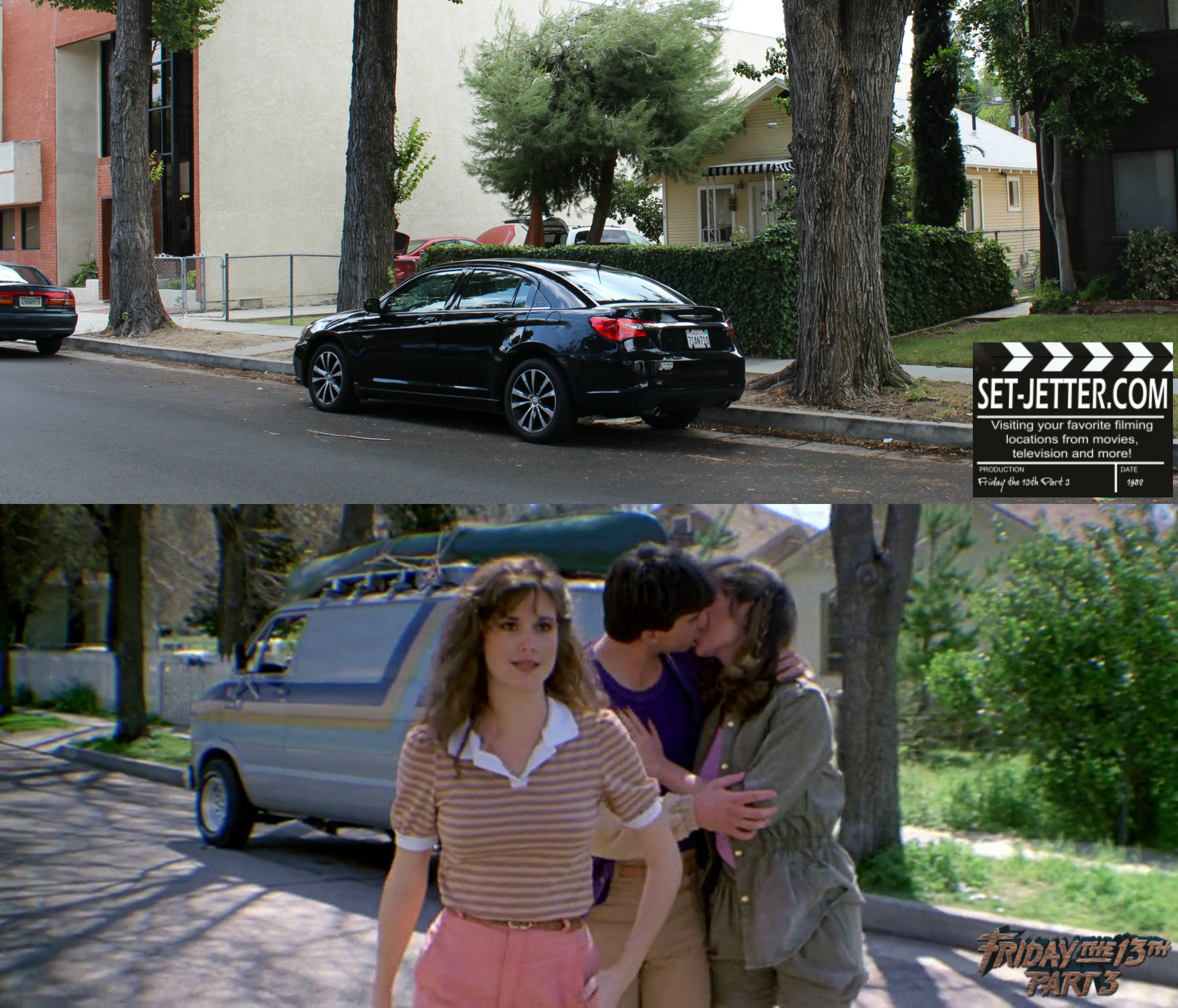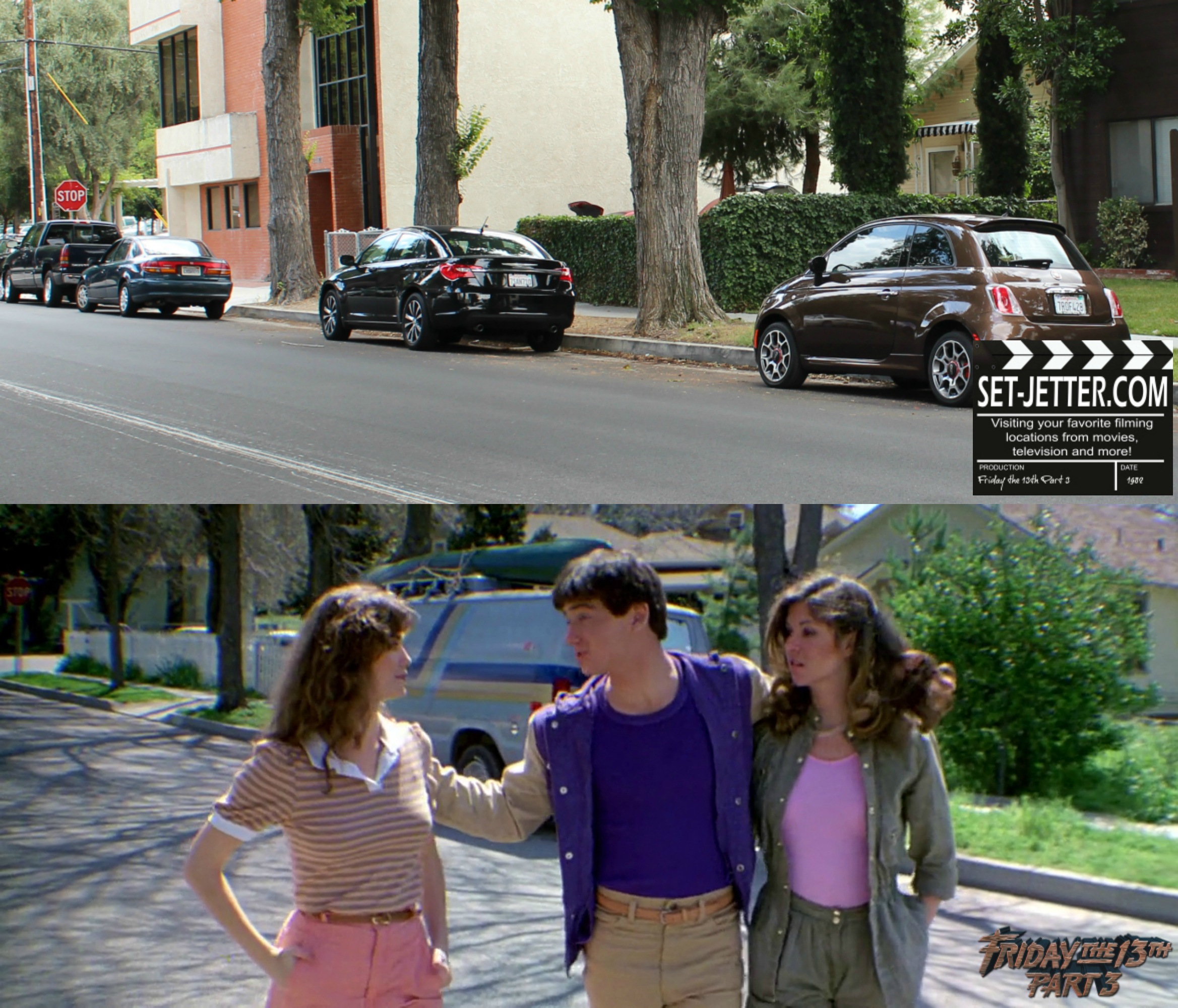 As they make their way across the street to Vera's house, we have one more building that still exists, a two-story structure with a few awnings. This can easily be seen in the background as the kids walk up to Vera's porch.
As they continue to walk, you can see the two-story building on the right, but all the houses across the street have been torn down and replaced by apartments.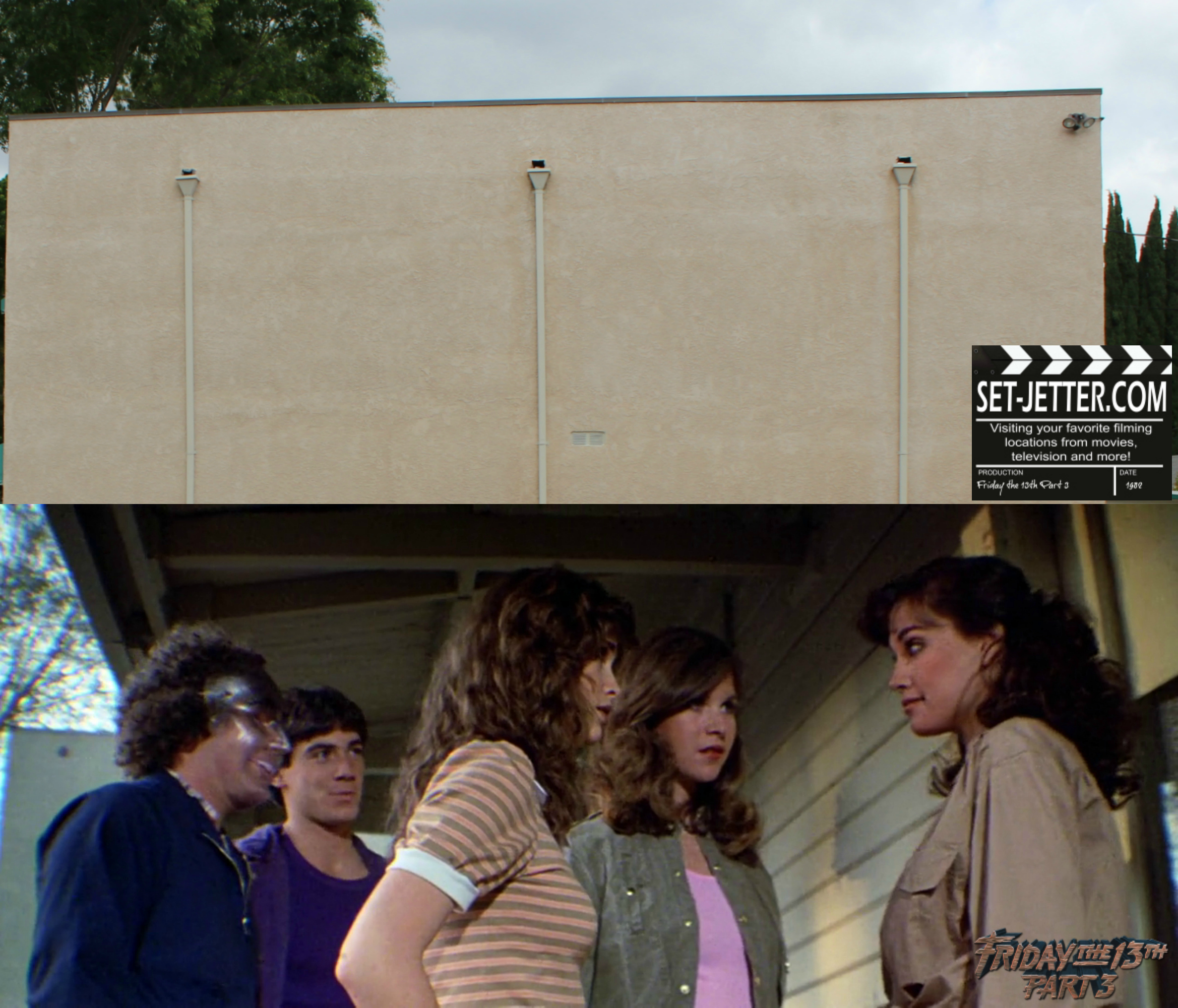 "She is not going." Here is where Vera's house was located at 24318 Walnut Street in Santa Clarita, There were actually two houses on this plot, both gone now.
We are back at Harold and Edna's store at 34813 Bouquet Canyon Road in Santa Clarita. The shot looking back up the driveway looks nearly identical as it did over 30 years ago.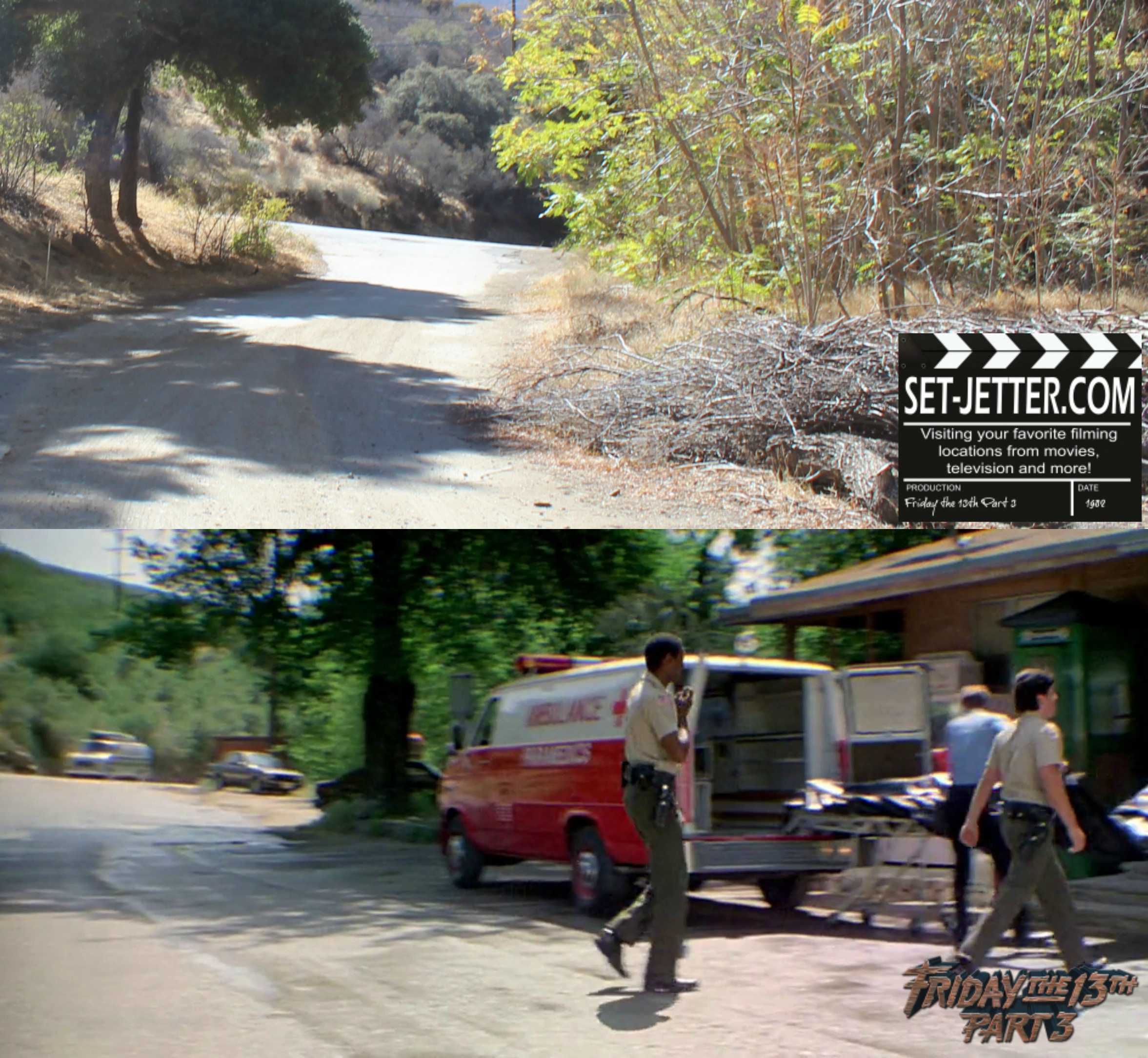 A lot of this area is now overgrown, but I did my best to recreate a couple of the shots of the kids driving by.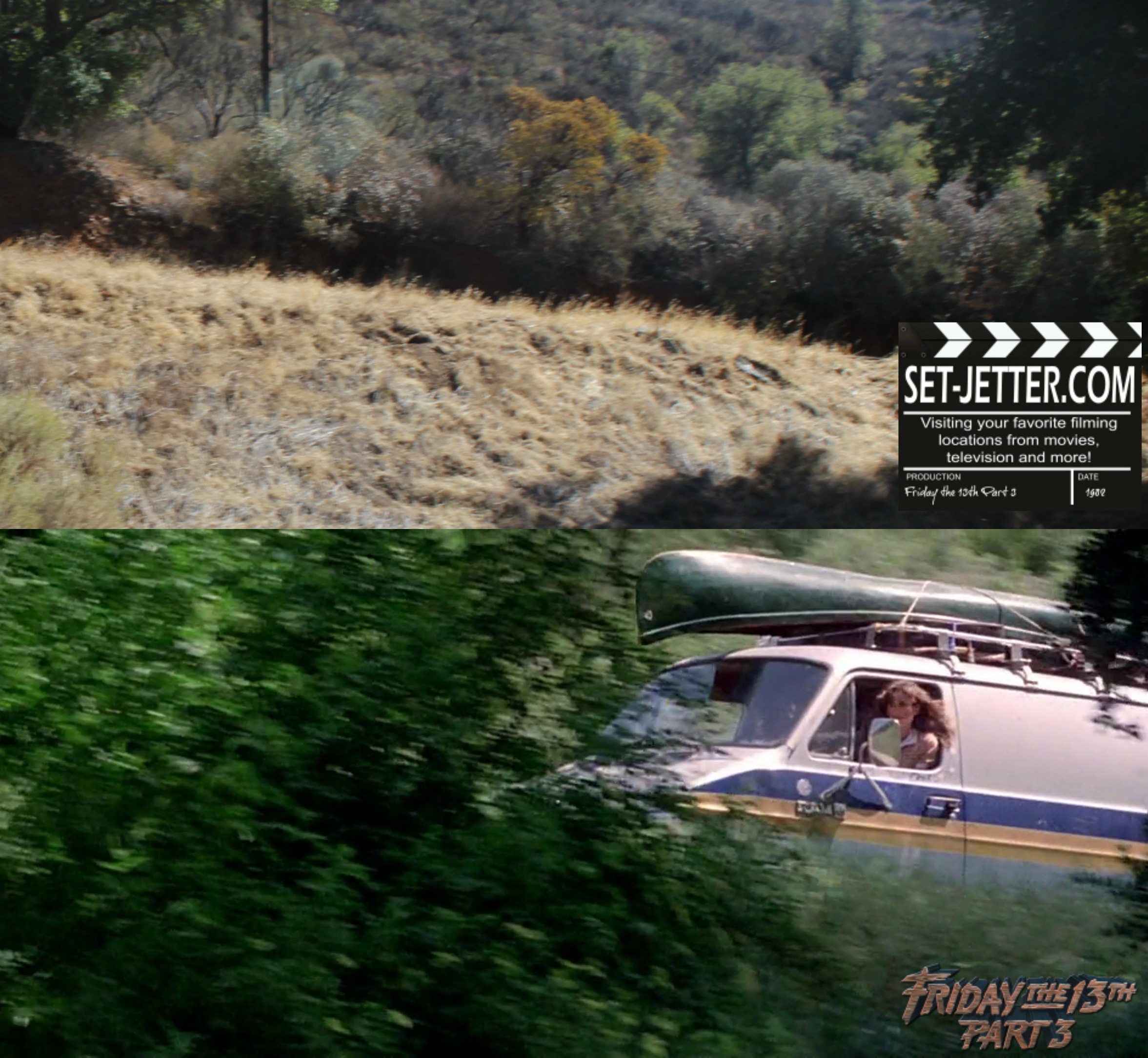 "May I please have the wallet, mam?" The Spunky Canyon Store has been a fan favorite to visit over the years. Located not too far from Harold and Edna's, it is at 15488 Spunky Canyon Road in Santa Clarita. The interiors have changed a lot, so they are not really screen-matched here, but I wanted to share what it looks like now.
"Are they following us?" The outside of the store and joining restaurant look mostly the same, but there is an additional door now.
"Uh oh is right!" Some changes over the years, but look... a real life telephone booth!
"Hold on!" A couple houses are no longer there, but you can identify the stretch of road and some poles.
"He went too far this time!"
And finally Higgins Haven. Shot as part of the Veluzat Movie Ranch, the barn and house were located north of Santa Clarita on Forest Rte 6N18 at coordinates 34.492218, -118.496407. Special thanks to Paul Slattery at Then & Now Movie Locations for letting me share his pictures when he recently visited the site.
Here are a few more shots of the barn exteriors and interiors.
As most fans now, the house was lost to a fire several years ago, but part of the chimney is still recognizable...
And one more final shot of the barn as Jason lies and waits for the next chapter...
I was lucky enough to meet Dana Kimmel, who like her final girl cohorts, never seems to age!